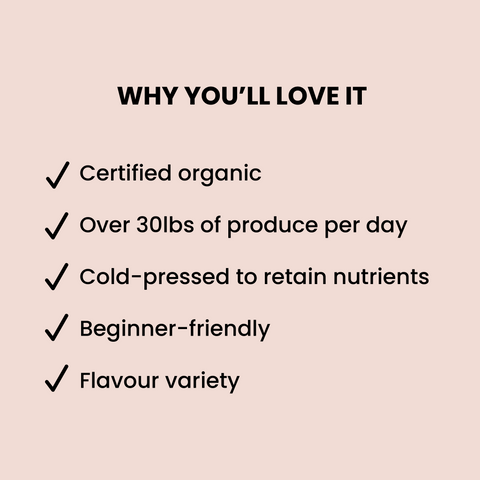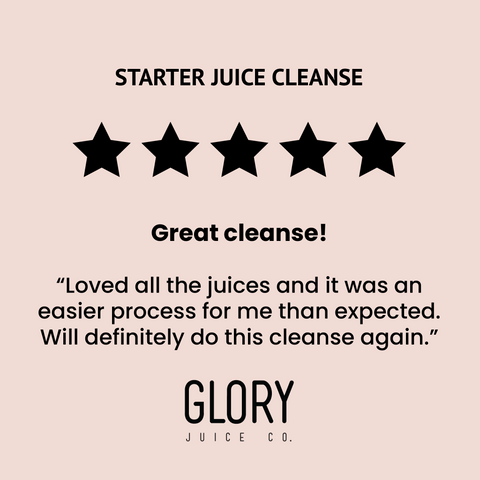 Starter Juice Cleanse
Beginners welcome! This cleanse is a great introduction to the benefits of juice cleansing, supporting your body flush unwanted toxins while being less intense than our Green Juice Cleanse.  
Your Starter Juice Cleanse Day 
Breakfast:

 #3 | Start your day with a slightly sweet, slightly tart juice. The gentile kick of ginger will give you an energy boost to tackle the day.

 

Morning Snack:

 #6 | The #6 boosts the immune system with it's high antioxidant content and aids healing with the anti-inflammatory properties present in turmeric.

 

Lunch:

 #12 | For lunch we have a celery-based green juice to replenish electrolytes and act as an internal cleanser.

 

Afternoon Snack:

 #7 | Beet juice benefits cardiovascular health as it is said to increase the uptake of oxygen to the blood. Burdock root offers detoxifying properties for the blood and liver.

 

Dinner:

 #14 | Spinach makes this juice higher in protein and iron, and fennel and mint support digestion making this juice a satisfying drink at dinner time.

 

Dessert:

 Chia Colada | Finish your day in a tropical paradise! Fresh pineapple steals the show in this Refresher but chia seeds provide fibre and protein to keep you feeling satiated.

 
Delivery/Pickup Information 
We highly recommend that you schedule your juice cleanse delivery or pickup date for the day before you plan on starting your cleanse. 
This will ensure that you have all your juices available from the start of your day, allowing you to feel happy and satiated right from the beginning. 
Cleanses come as a single delivery. If you'd like to split your cleanse into multiple deliveries, please contact us after ordering. Please note that we are unable to substitute any of the juices for mylks. 
Delivery Information
We deliver to Greater Vancouver, North Van, West Van, the Fraser Valley, Sunshine Coast, Victoria, Nanaimo, Bowen Island and Sea to Sky corridor with a minimum order. Please check out our Delivery Information page for all the details!