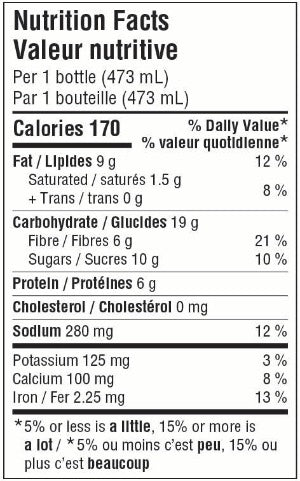 Cacao Mylk : Alkaline Water Sprouted Almonds Dates Raw Cacao Maple Syrup Mountain Salt
What it tastes like: a chocolatey take on our almond mylk. No sweeter than the plain almond, we combine maple syrup and dates in the same proportion to give it a balanced flavour with the added cacao. Cacao powder is the raw alternative to cocoa and provides the same rich and delicious flavour while the minerals are preserved from the heating process.
What it's good for: Cacao is great to help lower cortisol levels and manage stress - no wonder we crave it! It also increases mood and energy as theobromine is a mild cardiovascular stimulant. A great source of antioxidants and magnesium, our cacao mylk is great for every occasion. 
What's in it: alkaline water, sprouted almonds, dates, raw cacao, maple syrup, mountain salt
Raw & organic. No added water, sugar or preservatives.
***This item is not an HPP product: Max 4-day shelf life.

Nutritional Information