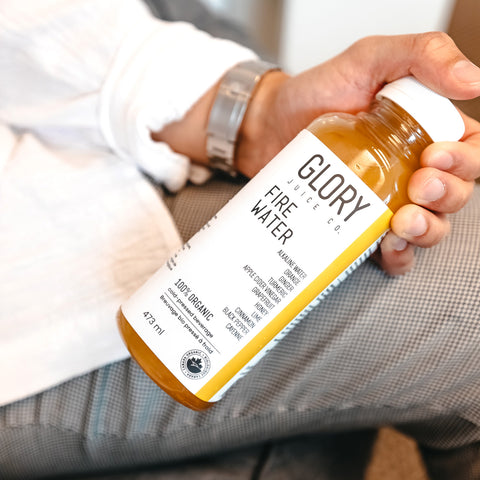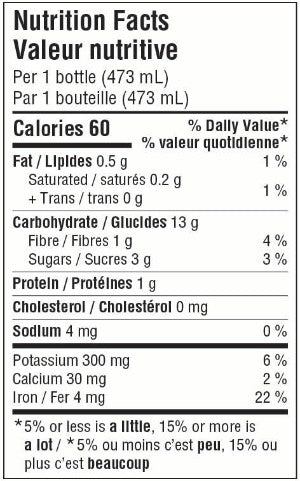 Fire Water : Alkaline Water Orange Ginger Turmeric Apple Cider Vinegar Grapefruit Honey Lime Cinnamon Black Pepper Cayenne
What it tastes like: Our famous ginger turmeric shot is boosted with apple cider vinegar, honey, cinnamon, and extra cayenne. It's spicy + sweet like a refreshing apple cider.
What it's good for: A perfect way to start your morning, this kick starter can be drunk first thing to get you off on the right foot. Drink any time you feel fatigued to invigorate your senses and power through your day. Our fire water contains anti-inflammatory properties from the turmeric; the cayenne, cinnamon + black pepper give the metabolism a boost while the ginger + apple cider vinegar aid digestion and alleviate stomach upset.
What's in it: Alkaline water, orange, ginger, turmeric, apple cider vinegar, grapefruit, honey, lime, cinnamon, black pepper, cayenne.
Raw & Certified Organic. No added sugar or preservatives. 2-week shelf life guaranteed.
Nutritional Information
Key Benefits
Delivery Information
We deliver to Greater Vancouver, North Van, West Van, the Fraser Valley, Sunshine Coast, Victoria, Nanaimo, Bowen Island and Sea to Sky corridor with a minimum order. Please check out our Delivery Information page for all the details!